Discover more from Jokien with Tolkien
"Live, Laugh, Lord of the Rings" is the unofficial motto of this weekly, often humorous, sometimes earnest, always genuine "2023 Substack Featured Publication" concerning hobbits, faith, and culture by a too-online lifelong reader & Tolkien fan.
Over 5,000 subscribers
🎄 10 Reasons The Lord of the Rings is a Christmas Movie
One Golden Ring to Rule them All
Which Christmas movie is the best? Why The Lord of the Rings,1 of course.
While you might have heard this claim that LOTR is a Christmas movie before (I have!), they usually only have a reason or two for why accompanying them. Since I've never really seen an attempt at an exhaustive compilation of all the evidence in one thread or post, that's today's objective!
Because we can all agree that The Lord of the Rings and this time of year seem made for each other. But why, exactly?
Nota bene: this ended up being a long-ish post and Substack informs me some email clients might cut it off, so click on the title up top to open it up in your browser or the app if you can't see all 10 reasons or if you don't see the two gift guides I mention at the very end.
10 Reasons The Lord of the Rings is a Christmas Movie
1. Elves
Ok this one is pretty self-explanatory. Santa's workshop and Middle-earth both have….elves. I mean, I really shouldn't even have to explain it. I'm running out of ways to say I will not elaborate because you should just already be nodding and ready for the next point, ok?2
2. Jolly Old Angelic/Saintly/Magical Being with a White Beard
Ok picture this. A figure with a white beard. Jolly laugh. Accompanied by an elf. Has a famous steed that bears him around the world. Loves little people. Who were you picturing? Santa or Gandalf?
I mean, remember how happy the little hobbit children are to see their friend Gandalf return again to the Shire? Remind you of any other children who get excited this time of year?
3. snow snow snow snow SNOW
I'm dreaming of a White Wizard…er, I mean Christmas! And we definitely get one in LOTR. TOO much snow, actually, for the Fellowship.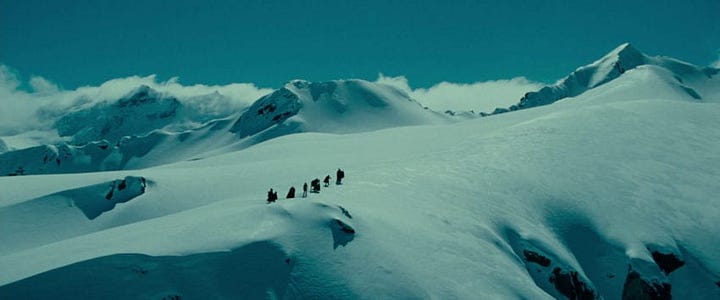 And what says "Christmas" quite like snow?
4. Trees Central to Both
Can you imagine Christmas without Christmas trees? Didn't think so. What about The Lord of the Rings without trees (Ents, Huorns, and all the other trees)? Wait, don't even try to imagine that, you'll summon the angry ghost of Tolkien himself with such blasphemy!
5. So. Many. Songs.
Look, if you've only seen the movies and not read the books this one might not jump out as much but the Jolly Old Professor never, and I mean NEVER missed a chance to have a character break out into song. So much so that some people (not me! …most read throughs anyways) just skip the songs because they're that frequent. But music is a staple of both the Christmas season and also The Lord of the Rings. So much so that it inspires frequent parody:
Now all together, let's sing that old classic: "Hey dol! merry dol! ring a dong dillo!"
6. Each member of the Fellowship receives a gift in Lothlórien
Elves distributing presents to little people? I'm sorry but if you're not seeing it I can't help you here.
7. The Fellowship departs Imladris on December 25th
Joking aside for a second, I find this to be one of the strongest and most convincing pieces of evidence for The Lord of the Rings being a Christmas Movie. Tolkien set the date of the departure of the Fellowship as December 25th, though it isn't mentioned in the text of the story itself. Rather, you have to go through the dates in Appendix B of The Lord of the Rings to find this bit of information.
Why would Tolkien do that, setting the departure of the Company on Christmas Day? Since Middle-earth is his version of a mythic past of our world today, Christ is millennia away from being born (so technically the Fellowship leaves Imladris on a pagan holiday and not Christmas???). So is it as simple as December 25th being a familiar day?
I don't think so. The journey of the Fellowship very intentionally mirrors that of the life of Christ. The Fellowship is born on Christmas Day, contains a prophet-priest-king triad composed of Gandalf (a wise heavenly being who has become—dare I say—incarnate and is resurrected), Frodo (an innocent suffering sacrifice given up for all), and Aragorn (the returning king),3 and accomplishes its mission on March 25th,4 a traditional date for Easter in antiquity. Tolkien himself acknowledged that his faith had influenced his work at both the unconscious and the conscious levels5 and this alignment of dates is too careful to be coincidence.
8. The movies were released each year in December
Now here's one that's less of an in-universe reason and more of a real-world (or 'Primary Creation' as Tolkien might have termed it) reason for why we all feel like we should be watching (and rewatching and rewatching) these movies around this time: for those of us who saw the Peter Jackson films in theaters, we first saw them when they were released each year in December. So in December 2001 we experienced this interpretation of Middle-earth for the first time and then in December 2002 you probably watched Fellowship again to prep before seeing The Two Towers, then in December 2003 watched the first two to prep for ROTK. Having gotten into the habit, many of us have simply never stopped watching the trilogy in many of or all of the subsequent Decembers.
9. The Lord of Gifts
When Sauron took a "fair" appearance and deceived the men of Númenor and the elves of Eregion, he took the name Annatar, which means "Lord of Gifts." Remind you of anyone?? No? How about now:
10. When Else Are You Going To Marathon a 12hr Movie??
To end on a purely practical note, all the time many of us have off from work and together with family provides the perfect opportunity to tackle all three movies (extended editions, of course!) in a row in a way that simply doesn't come around that often. And add on top of that the fact that family that might be far away other times of the year is probably visiting. What better way then to spend a rare day off when all the family is together than by watching LOTR?
So there you have it: 10 Reasons The Lord of the Rings is a Christmas Movie. Let me know in the comments if I missed any reasons or if there was one you particularly enjoyed! Enjoy your LOTR marathon if you haven't already this Holiday Season!
2023 Update: Speaking of Lord of the Rings and Christmas, here's a guide I recently put together of Lord of the Rings gifts:
And be sure to check out the Jokien with Tolkien merch store too for some gift ideas, including this Rudolph design:
❌ All typos are totally on purpose
🔗 Links may be affiliate, which is a free-to-you way to support this newsletter where I earn a small commission on items you purchase
💌 Was this email forwarded to you or did you find it via social media? Subscribe here
🗃️ Can't wait till next Thursday for more content? View the archive
🎯 Interested in sponsoring this newsletter? (5k+ subscribers) Email me at JRRJokien@JRRJokien.com
1
I will be treating all three movies as one story here, though it will become apparent that much of the evidence presented here is found mainly in Fellowship and The Two Towers. There is actually a great argument that The Return of the King is an Easter movie…maybe worth exploring in a future newsletter? But for today, I'm looking at LOTR as a unit.
2
But can you imagine Fëanor or Celebrimbor working in Santa's workshop, crafting the finest toys that have ever been seen in the land? I'm just loving the mental picture of these two in such a wildly different setting and the inevitable hijinks that would ensue.
3
I was familiar with the idea of Gandalf, Frodo, and Aragorn all being types of Christ, but I came across the mapping of them onto the prophet/priest/king offices in Austin M. Freeman's Tolkien Dogmatics, 238-240.
4
See LOTR's Appendix B again.
5
"The Lord of the Rings is of course a fundamentally religious and Catholic work; unconsciously so at first, but consciously in the revision," he wrote in a letter to his friend Father Robert Murray.