Discover more from Jokien with Tolkien
"Live, Laugh, Lord of the Rings" is the unofficial motto of this weekly, often humorous, sometimes earnest, always genuine "2023 Substack Featured Publication" concerning hobbits, faith, and culture by a too-online lifelong reader & Tolkien fan.
Over 5,000 subscribers
💎 Tolkien Treasures #008: June/July 2023
Plus: I'm Now on Bluesky and Threads!
"Five Faves" Becomes "Tolkien Treasures"!
Hello all! As I do most every month, today I'm sharing a roundup of things that I've been enjoying this month. But while this was known as my "Five Faves" in prior months, today it comes with an all-new title: Tolkien Treasures! I like it much better and it aligns more closely with the subject matter of the newsletter, so henceforth that's what this recurring feature will be called.
Various happenings last month pushed my regular schedule back a few weeks, so I didn't get to a roundup post in June. However, I'm not sure that I'll have time in the publishing schedule this month to return to "Tolkien Treasures" before August, so for now I'll just say these Tolkien Treasures today are for June and July (in this economy??) and we'll get back to a more regular schedule in August.
Without further ado, here they are:
1. A Leaf By Niggle by Makoto Fujimura
This month's essay about "Leaf by Niggle" was inspired partly by me revisiting several interviews that the late Dr. Tim Keller gave and articles that he wrote before his death this past May. In several of these interviews he discussed "Leaf by Niggle" and some of the lessons or inspiration he took from Tolkien's work.

Somewhere amidst this process, I found an entirely new-to-me story about an artist, Makoto Fujimura, who was inspired by Dr. Keller's love for Tolkien's short allegory to paint again in the wake of the loss of hope and the overwhelming grief of September 11, 2001.

The painting, entitled A Leaf By Niggle, is above. Read the full story on Makoto's website.1
2. The One Ring (Card) Found!
Magic: The Gathering recently released their latest set, Tales of Middle-earth. One of the fun details that they put into this The Lord of the Rings-themed set was an ultra-rare version of the One Ring card. While there are common, uncommon, and rare versions of many cards including the One Ring, there was an extra special version of the One Ring card with only one in existence:
"One Ring to rule them all" indeed! For the weeks following the official release, the search was on for this ultra-rare and valuable card. There was even a $2.1 million reward put out by a gaming store for the card!

But the Ring card was picked up by the most unlikely creature imaginable—a Canadian. Last week the card was found, ending the search for the Ring. The owner chose to remain anonymous. We will see what, if anything, they choose to do with the card now.

As a bonus, here is a video of Elijah Wood doing a short promo for the release of the set, viewing and reacting to some of the cards from his unique vantage point on Middle-earth. The result is charming, especially the very last bit of the video:
Kaitlyn Facista of Tea with Tolkien wrote this excellent article exploring [Rings of Power spoiler alert] Sauron's possible motivations within season one of The Rings of Power. Read the article at her website.
4. Roger Ebert's Review of "The Chronicles of Riddick"
Now how is this related to The Lord of the Rings? you might ask.
Well, the (hilarious and surprisingly poignant) relevant passage from the review is an apology to fans of The Lord of the Rings that comes in the following two paragraphs:
Films like "The Chronicles of Riddick" gather about them cadres of fans who obsess about every smallest detail, but somehow I don't think "Riddick" will make as many converts as "The Matrix." In fact, I owe an apology to fans of the "Lord of the Rings" trilogy.


When Richard Roeper reviewed the current two-disc DVD of "Lord of the Rings: The Return of the King" on TV, I noted that a four-disc set of the movie was coming out later this year. He observed that the complete trilogy will come out on "an accordion size set that will take up the next six years of your life." I observed that "LOTR" fans should "get a life." I meant this as an affectionate ironic throwaway, but have received dozens of wounded e-mails from Ring devotees who believe "LOTR" has, indeed, given them a life, and after seeing "The Chronicles of Riddick," I agree. They have a life. The prospect of become an expert on "Riddick," in contrast, is too depressing to contemplate.2
5. Andy Serkis explains Where the Inspiration for His Gollum Voice Came From
Andy Serkis shares a fascinating anecdote about how his audition for the part of Gollum in The Lord of the Rings went and the surprising inspiration his cat gave him for the part!
Tiktok failed to load.
Enable 3rd party cookies or use another browser
Question for the comments: what is something you've been enjoying this month?
What Paid Subscribers Got This Month
This month's essay for paid subscribers focused on Tolkien's view of allegory and one of his own allegories, Leaf by Niggle. Paid subscribers also got their first opportunity to vote for the subject of the next paid essay!
To get access to all the paid subscriber exclusives, join the Discord server, and also help keep this newsletter heading straight to everyone's inbox each week, consider becoming a paid subscriber to Jokien with Tolkien. Hit the button below for more info! And thanks!
I'm on Threads and Bluesky Now!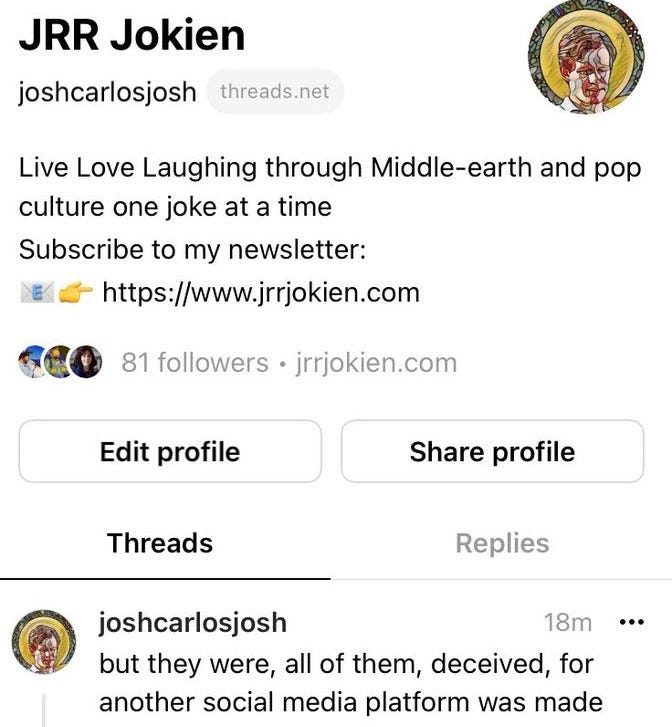 This week I got an invite to Bluesky (the former CEO of Twitter's new Twitter clone) and then Threads (Instagram's Twitter clone) launched as well. I've set up shop on both and will wait to see if either really take off and/or what ends up happening to Twitter. The past few months of each new Twitter "replacement" has left me feeling a little like Bilbo, though:
If you're looking for a Twitter alternative, which is most appealing to you?
As we wait to see which (if any) dethrone Twitter, you can now find me at Bluesky and Threads (and of course Twitter)!
There we have it, my Tolkien Treasures for June. Farewell, friends. Go towards goodness!
Special shoutout and thank you to corbeykag, Laura G, and Shaylin A for upgrading to a paid subscription this week! This is a reader-supported newsletter so if you enjoy these updates each week, please consider some of the following ways (free and paid) to support Jokien with Tolkien:
(Free) 'Like' this post here on substack or where I share it on social media so others can discover it

(Free) Forward this newsletter to someone who might be interested. Get a free month of a paid subscription for your first referral if they subscribe!

(Free) Share links to this newsletter or my Substack on social media. Also earns you rewards for referrals!

($) Upgrade to a paid membership of Jokien with Tolkien (includes Discord access)

($) Become a Patreon supporter or leave me a tip for second breakfast

(Free) Keep reading this newsletter!
Appendices
July is an extra busy month for me, but I still plan on having a newsletter hitting your inbox each Thursday this month! Look for a paid subscriber essay, a humorous sketch like Tolkien and Lewis Bicker Over Fantasy, and a guest post all in the next few weeks!

Anyone watched Jury Duty on Amazon's Freevee? Just saw the first few episodes and I'm *loving* the "The Office meets The Truman Show" vibes.

Season 2 of Strange New Worlds has been excellent so far! Who else is watching?
All typos are totally on purpose. Links may be affiliate, which is a free-to-you way to support this newsletter where I earn a small commission on items you purchase.
Interested in sponsoring this newsletter? Email me at JRRJokien@gmail.com to reach 2,600+ subscribers.
1
In speaking about the story to Makoto, Dr. Keller seems to have misstated that Niggle could only finish one leaf. In fact, only one leaf of Niggle's painting survives by the end of the story, but Niggle is worried about finishing the one painting throughout the story and so the overall point Dr. Keller was trying to make in encouraging Makoto is still applicable.
2
Thanks to twitter user @LiamODin, who excerpted the review on twitter where I first came across it.