Discover more from Jokien with Tolkien
"Live, Laugh, Lord of the Rings" is the unofficial motto of this weekly, often humorous, sometimes earnest, always genuine "2023 Substack Featured Publication" concerning hobbits, faith, and culture by a too-online lifelong reader & Tolkien fan.
Over 5,000 subscribers
Tolkien Reading Day GIVEAWAY
Plus a Sale on Subscriptions and a New Edition of The Hobbit!
Tolkien Reading Day GIVEAWAY
This upcoming Saturday, March 25th, is Tolkien Reading Day! What is Tolkien Reading Day, you may ask? Well, according to the Tolkien Reading Day page on the Tolkien Society website:
Tolkien Reading Day is held on the 25th of March each year.

It has been organised by the Tolkien Society since 2003 to encourage fans to celebrate and promote the life and works of J.R.R. Tolkien by reading favourite passages.
Why March 25th? Because that is the day that the One Ring was destroyed and the Dark Lord Sauron was defeated.1
In order to celebrate Tolkien Reading Day, I'm giving away a box set of The Hobbit and The Lord of the Rings!
This giveaway will run from Today, March 23rd, through this Saturday, March 25th. I'll announce a winner Tuesday, March 28th. To enter, complete one or more of the following actions:
Subscribe to this Substack

Follow me on Instagram
Share the giveaway—you can do this by sharing this giveaway via the button below (tag me at @joshcarlosjosh in the post so I see it!) or retweeting or resharing my posts of the giveaway on social media. Oh, and if your account is private just take a screenshot of the share and DM me or email it to JRRJokien@gmail.com
Every new subscription, follow on Instagram, or share on social media I'm tagged in from now through midnight PST on Saturday, March 25th will earn one entry into the giveaway (one entry per person per Substack subscription and Instagram follow, one daily entry per person for sharing the giveaway for a maximum of five total possible entries). No purchase is necessary to win and the giveaway is open to participants worldwide.
And the prize? The Hobbit And The Lord Of The Rings: Deluxe Pocket Boxed Set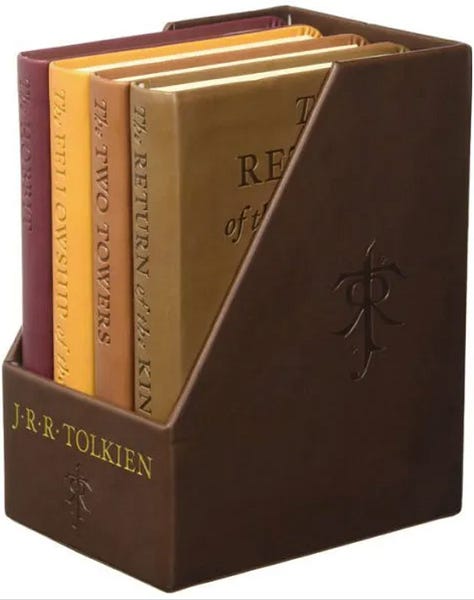 This beautiful set is perfect for taking The Hobbit or any of the individual volumes of The Lord of the Rings with you so you can read them wherever the road takes you (and maybe even win a riddle contest if your question is "What have I got in my pocket?"). It's a simply stunning set that will function equally well as your first introduction to these books if it's your first time reading them or as an addition to your Tolkien collection.
Tolkien Reading Day Paid Subscription SALE
Also for Tolkien Reading Day, I'm offering 20% off paid subscriptions from now until the end of the month! That means it's only $4 a month or $28 a year (that's less than $2.50 a month) to get full access to the new monthly Book Notes feature and the paid monthly essays like this month's Wounds that Cannot Heal, which I've removed the paywall on while this sale is running. I've been so humbled and encouraged by the tremendous response so far to this latest essay and thought it would function perfectly as a preview of the type of content to expect as a paid subscriber.
This is a reader-supported newsletter so if you enjoy these updates each week, please consider taking advantage of this sale and supporting this Substack by upgrading to a paid subscription.
New Edition of The Hobbit Illustrated by Tolkien
One small update to share in the rest of today's newsletter: this September a new edition of The Hobbit will be released! This version will be an "Illustrated by the Author" edition to match the Illustrated by the Author The Lord of the Rings and The Silmarillion editions.
I own both the other Illustrated by the Author editions and I absolutely love them! I'm sure this edition of The Hobbit, which is "illustrated throughout with over 50 sketches, drawings, paintings and maps by J.R.R. Tolkien himself and with the complete text printed in two colors," will be similar to them, so here's a few photos of the others for you to peruse: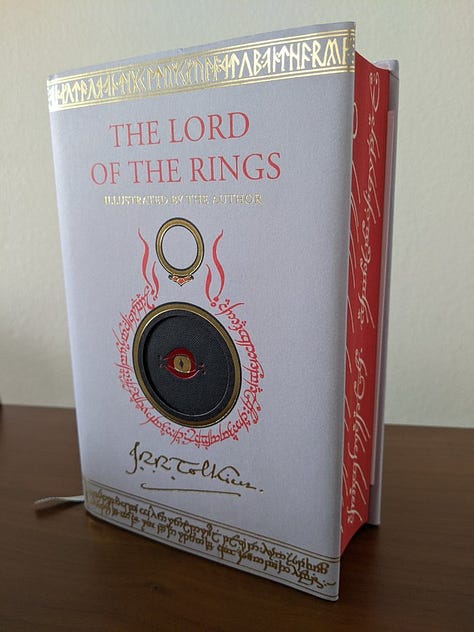 You can preorder this edition of The Hobbit today on Amazon! As a heads up, the price seems pretty high to me at the moment for this volume BUT Amazon's preorder price guarantee means that you'll only pay whatever the lowest price is between now and September. The Silmarillion had a similar higher initial price but the price did indeed go down (by quite a bit!) before it shipped, so you will probably be able to count on the same here.
That's all for today, friends! Have a wonderful end of the week and weekend and good luck in the giveaway! Special shoutout and thank you to Erin, Lucy, Eddie, Kristi, J, and Mallory for upgrading to a paid subscription this week! And everyone who is currently enjoying a free trial of the paid tier as of the day I'm writing this! Farewell, friends.
All typos are totally on purpose. Links may be affiliate.
1
Also the date that the Annunciation is celebrated in the Catholic Church, as well as the date that was traditionally considered the death of Christ, the creation of Adam; also, the fall of Lucifer, the passing of Israel through the Red Sea and the immolation of Isaac. Busy (and significant) day! Via https://www.newadvent.org/cathen/01542a.htm