Discover more from Jokien with Tolkien
"Live, Laugh, Lord of the Rings" is the unofficial motto of this weekly, often humorous, sometimes earnest, always genuine "2023 Substack Featured Publication" concerning hobbits, faith, and culture by a too-online lifelong reader & Tolkien fan.
Over 5,000 subscribers
🎂 Jokien with Tolkien Turns (Not Elventy-) One!
PLUS: read till the end for a special announcement!
Hello friends!
Today I've got a special post to commemorate a special occasion.
Exactly one year ago, on 11/15/22, I launched Jokien with Tolkien on Substack!
Much like Frodo setting out from the Shire with the One Ring in hand, I had very little idea of what lay ahead on the journey on which I was embarking, just that it would be an adventure and that I would hopefully have some good company and help along the way.
Here we are one year later and I've published 96 newsletters1 here on Substack! And not just that, for what are a bunch of newsletters if there's no one to read them? Over the past year a small band of initial subscribers has continually grown and there are now over 4,300 of you!
Though I was initially unsure even of what content to offer readers of a newsletter versus followers on social media, I've settled into a good rhythm here over the past twelve months where once a month I send out:
In May I launched a Jokien with Tolkien Discord server (check your welcome email for the invite link!), which has become one of my favorite corners of the internet because of all the fun we have and also because I get to float ideas to the group and share sneak peeks for what's to come in the newsletter.
Back in August, Jokien with Tolkien became a Substack bestseller after the number of paid subscribers entered the hundreds and then just this week Jokien with Tolkien was named one of Substack's 2023 Featured Publications! What a perfect cap to this year on Substack! A very special welcome to you if you're one of the new subscribers that have found this publication in the past few days because of this!
No exaggeration: it's a dream come true to be able to call myself a writer. Substack has helped make that possible, but YOU, dear reader, have been the most crucial part of that. Without you all, this publication would not exist. Thank you. From the bottom of my heart.
As we reflect on this milestone, I'd like to invite those of you who are subscribers to the free newsletter to consider upgrading to a paid subscription (which, in a nod to the Peter Jackson films, I like to refer to as the "Jokien with Tolkien Extended Edition").
If you're financially able to support this publication, if you regularly enjoy the content and would like to help keep it coming each week, and if you want to celebrate this publication turning 1, I would be honored to have your support. And if you can't say 'yes' to most or all those reasons, that's perfectly alright! Most readers of Jokien with Tolkien are free subscribers and I always make sure that there is plenty of content for everyone, whether you're a free or paid subscriber.
But if you want to metaphorically pledge your sword, bow, or axe and join the Extended Edition, you can do that with the below button. And because we're celebrating this publication's anniversary, I'm running a flash sale on paid subscriptions today and tomorrow only (11/15–11/16)! Redeem here:
For $5 a month or $45 annually, you can get access to the extended edition essays past and future, open up full access to the Discord server, get behind the scenes looks at how I write the humor pieces, and support the work that I do week in and week out producing these newsletters.
Thank you for those of you who are already Extended Edition members, all of you who consider joining today, and all the free subscribers who read, share, and interact with the newsletter as well!
One last thing before I go
To further mark this special occasion, I'm launching some official Jokien with Tolkien Merch!
Looking for a great Tolkien-related gift for a loved one who loves The Lord of the Rings (or for yourself)? Or wanting to support Jokien with Tolkien but want to get something tangible for yourself out of it too? Look no further!
Visit the Jokien with Tolkien store to pick out one of the below designs in your preferred size and color and get it shipped straight to your door!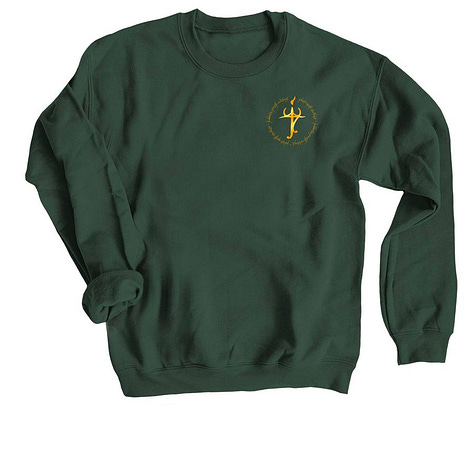 Thank you again for your support, encouragement, engagement, and trust over this past year. Here's to more to come as we journey down this road together! I'll be back tomorrow with a new post.
Namárië,
Josh (JRR Jokien)
Appendices
Shout-out to Cherie C, Vicki C, and Michele G who all upgraded to a paid subscription and joined the Jokien with Tolkien Extended Edition this month!

Want to support the newsletter and celebrate this one-year anniversary but unable to commit to a subscription? Leave a tip in my tip jar!
❌ All typos are totally on purpose
🔗 Links may be affiliate, which is a free-to-you way to support this newsletter where I earn a small commission on items you purchase
💌 Was this email forwarded to you? Subscribe here
🗃️ Can't wait till next Thursday for more content? View the archive
🎯 Interested in sponsoring this newsletter? (4.4k+ subscribers) Email me at JRRJokien@JRRJokien.com
1
Not all of those are full-fledged newsletters, some have been discussion posts and threads. But that's still a whole bunch of writing!
2
I may one day do a more in-depth explanation, but each of the first three are actually sections here on my Substack: LOLs of the Rings, Tolkien Talk, and Tolkien Treasures. You can subscribe to any of them individually, or unsubscribe from one if all you want is the funny stuff and not the serious stuff, or vice versa. Just click "manage your subscription" from the main dropdown on the jrrjokien.com homepage on the web or in the app.