Discover more from Jokien with Tolkien
"Live, Laugh, Lord of the Rings" is the unofficial motto of this weekly, often humorous, sometimes earnest, always genuine "2023 Substack Featured Publication" concerning hobbits, faith, and culture by a too-online lifelong reader & Tolkien fan.
Over 5,000 subscribers
💎 Tolkien Treasures #011: October 2023
News from the Mark, The Eagle and Child, Byzantine-style art, and LOTR Halloween costume ideas!
Namárië! Hello all! It's time again to again share my roundup of the month's Tolkien Treasures. But before we get to that, here's few satirical takes on recent headlines with a Tolkien spin on them. Welcome to week one of
What news from the Mark?
After three weeks without one, House Republicans finally elected a Speaker. About time: the Ents decided to go to war with Saruman quicker than this. It's a good thing that they decided on a candidate too, as a few more failed votes would have triggered a little-known contingency plan installing a line of Stewards who would take over the duties of Speaker until the rightful heir of Isildur returns to claim the gavel.

At one point this week, there were NINE candidates simultaneously vying for the speakership. Nine candidates from the race of Men, who, above all else, desire power. That sounds familiar for some reason…

The Orionid meteor shower peaked this last week on October 21st. So far no word about any remarkably familiar Strangers falling from the sky, but stay tuned for any developments.

The Houston Astros and Philadelphia Phillies were eliminated from the MLB postseason this week, which means the Texas Rangers face off against the Arizona Diamondbacks in the World Series. My advice to the Rangers? If any of the Rangers happen to know a Wizard, he might end up being instrumental in helping them keep the Dbacks' forked tongues behind their lips.
*And now for a word from this week's sponsors*
Not Conservative. Not Liberal. Just Christian.
The Pour Over is helping Christians stay informed but not overwhelmed by the news by providing concise, politically neutral, and entertaining summaries of the world's biggest news paired with reminders to stay focused on eternity. Try it and subscribe now here:
Tolkien Treasures
1. New life for The Eagle and Child
J.R.R. Tolkien was famously part of a group known as the Inklings, which included members such as C.S. Lewis, Charles Williams, and Owen Barfield. Many of their meetings took place at a pub called The Eagle and Child in Oxford, England.
It's been shut since 2020 but a research institution has just purchased the pub and plans to reopen it and preserve its historic legacy. Cheers to that!
2.
The Battle of Halloween's Deep
Halloween is this weekend and you know what that means: Christmas decorations, presents, and other related items are already out in all the stores. We're right at the last gasp of all the time Halloween can give us before Christmas is in full swing. It feels a bit like this scene from The Two Towers:
Tiktok failed to load.
Enable 3rd party cookies or use another browser
3. Lord of the Rings art in a Byzantine-inspired style
A series of images depicting scenes from The Lord of the Rings in a Byzantine art style has been making its way around social media. I won't link to it, for I fear that it's fundamentally against the spirit of Tolkien and his work to use a machine for that sort of thing.
Instead, I'd like to highlight a human artist, Jay Johnstone, who creates art in the style of Byzantine iconography. Here are three examples of his work, "Gandalf the White," "Frodo and Sam," and "The Watcher at the Gate." You can find out more about Jay and his work as well as originals, prints, and more for sale at his website.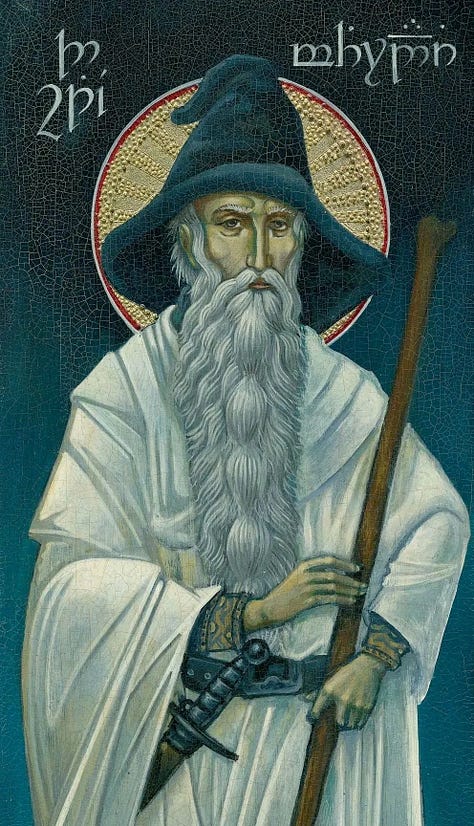 4. Return to Moria released this week!
We've seen Moria in the Second Age depicted in Amazon's The Rings of Power and in the Third Age in adaptations such as Peter Jackson's The Fellowship of the Ring, but now a videogame released this week on October 24th called Return to Moria is bringing Moria in the Fourth Age to life.
Set after the fall of Sauron, the game lets you help reclaim the famed mines from the evil that has shrouded it ever since Balin and his expedition failed in their efforts to retake the ancient kingdom. Looks good and early reviews I've seen are positive!
What Jokien with Tolkien: Extended Edition Members Got This Month
This month paid subscribers to Jokien with Tolkien: Extended Edition got an essay focusing on Aragorn's origin story as detailed in the appendices to The Lord of the Rings.
To support this newsletter and join paid subscriber discussions on Substack, get the exclusive monthly Extended Edition Essay, vote for future Extended Edition Essay topics, and get full access the Discord server, consider becoming a member of Jokien with Tolkien: Extended Edition for just $5 a month or $45 annually.
Click the button below for more details:
Unique Lord of the Rings Couples Costume Ideas
Halloween is in just a few days! Need some last-minute inspiration for your costume? While anyone could come up with an Aragorn and Arwen or Sam and Rosie costume, the below tweet got me thinking about what some other more…unique ideas for LOTR-inspired costumes might be:
Gollum and The One Ring—is your date precious to you? Nothing declares "we're together" better than putting some sort of gold band (a hula hoop, perhaps?) around them then dressing up in a loincloth and following them around muttering about just how precious they are. Go all out and act nice but pathetic like Sméagol some of the time and nasty and cunning like Gollum the rest of the time. Just be sure to watch out for any stout and tricksy halflings who might try to leave the party with your date.

Telperion and Laurelin—this one will reveal who the real Tolkien nerds among your friends are. Dress up as the Two Trees of Valinor and spend all evening bathing the party in your gold and silver light. Beware of spiders, though.

Tom Bombadil and Goldberry—Got a bright blue jacket, yellow boots, and a green gown lying around? Then you're all set to dress up as Old Tom Bombadil and his love, Goldberry. Impress and/or confuse everyone by showing up out of nowhere, singing nonsense songs about yourself, and disappearing from the narrative…er, I mean party, just as suddenly.

Beren and Lúthien—want to dress up as another man and elf couple from Tolkien but then spend all night having people guess you're Aragorn and Arwen anyways? Have I got the costume for you!

Going to a get-together alone but want people to think you're part of a couples costume anyways? Go as an Ent and say you were supposed to meet your Entwife there. What do you mean, "no one has seen her"??
Ok, so on second thought, maybe there's a reason that Aragorn and Arwen or Sam and Rosie pairings are more popular….
There we have it, my Tolkien Treasures for October. Farewell, friends. Go towards goodness!
Special shoutout and thank you to Christina W, Kennedy W, Julio-Cesar C, and Q for upgrading to a paid subscription this week!
This is a reader-supported newsletter and Jokien with Tolkien: Extended Edition members help keep it coming to everyone's inboxes week in and week out with their support. But if you're a free subscriber you can support it too! Forward this newsletter with someone you know would enjoy it or on social media, like this post here on Substack so others can find it, or share it on social media.
However you support this publication, thank you! I couldn't do this without you all!
To Discuss:
Which of this month's Tolkien Treasures did you enjoy the most?

Are you excited Christmas is already almost here or could you use a little more time before the holidays?

Are you interested in learning more about the Fourth Age when Return to Moria is set?

What do you think about AI and art? Can the technology be used ethically and responsibly or is it really impossible to use without harming the artists whose work it is trained on and threatens to replace?

Have you ever dressed up as a character from The Lord of the Rings for Halloween (or another occasion)? Who did you choose to dress up as? Any pics to share of you and maybe your group?

What is something you've been enjoying this month?
Appendices
Next month marks ONE YEAR of me writing on Substack! Amazing. I'll have more to say in a few weeks when we hit the actual anniversary, but I'm so thankful for this entire journey and for each one of you reading these words.

In case you missed it, I had a bonus newsletter this week on Rivendell and Elrond and the relationship between the griefs and joys of his life and the character of his homely house. Read it here:
All typos are totally on purpose. Links may be affiliate, which is a free-to-you way to support this newsletter where I earn a small commission on items you purchase.
Was this email forwarded to you? Subscribe here
Can't wait till next Thursday for more content? View the archive
Interested in sponsoring this newsletter? (4k+ subscribers) Email me at JRRJokien@JRRJokien.com