Discover more from Jokien with Tolkien
"Live, Laugh, Lord of the Rings" is the unofficial motto of this weekly, often humorous, sometimes earnest, always genuine "2023 Substack Featured Publication" concerning hobbits, faith, and culture by a too-online lifelong reader & Tolkien fan.
Over 5,000 subscribers
💎 Tolkien Treasures #009: August 2023
What do Galadriel in Rings of Power and Aragorn in the LOTR movies have in Common? Plus: The Office meets LOTR and a Classic LOTR Meme Turns 18 (!!)
Tolkien Treasures
Hello all! It's time to again share my monthly roundup of Tolkien Treasures that I've come across in the past few weeks!
In the second part of my two-part article on the Problems with Prequels this past May, I noted that Galadriel's portrayal in season 1 of The Rings of Power is not entirely without precedent and in some ways resembles Peter Jackson's changes to Aragorn in The Lord of the Rings trilogy:
While Aragorn arrives on the pages of The Lord of the Rings confident in his heritage and destiny, carrying the shards of Narsil around with him and having the sword reforged in Rivendell before the Fellowship departs, in the movies he is conflicted, afraid he will fail as Isildur did, and doesn't accept Narsil reforged into Andúril until The Return of the King. It is changing the source material, but it works for an adaptation because it gives his character somewhere to develop and move towards as the movies go on.
This observation helped to inspire an opinion piece at Looper focused entirely on this comparison between Galadriel in ROP and Aragorn in LOTR. It's an excellent article that makes some incisive observations about both adaptations and is well worth the read! Read it here.
2.
Assistant
To
the Lord of the Rings
What if a certain regional manager for a mid-level paper supply company had joined the Fellowship of the Ring? Well based on the below video, it would have been a much funnier adventure! Enjoy one of the best Office/Lord of the Rings edits I have seen anywhere:
Tiktok failed to load.
Enable 3rd party cookies or use another browser
3. More on Allegory and Tolkien
As the introduction to last month's essay on Tolkien's Leaf by Niggle, I wrote about Tolkien and his negative attitude towards allegory.
A few weeks later,
used Tolkien's attitude towards allegory as a launching off point to discuss allegory more generally and argue that
Tolkien, while right to resist readings of his own work as allegorical, sells that work of allegory short. The gift of allegory lies not in its flexibility or depth, but in its power to form readers. I do not mean in dominance. Allegory forms readers in attention to the meanings that lie under the literal. Before the complexity and multiplicity of myth or really good fiction comes the training of allegory into reaching for deeper meaning.
Read the rest of her thoughtful essay here:
Tolkien Reading Day is coming up next month on September 22nd! I've got some fun plans for the day here at Jokien with Tolkien, but I wanted to highlight another opportunity for you all to participate in as well.
, who you may already know from
TikTok
or
Instagram
, is launching a Tolkien Substack community where she'll guide us all through a readthrough of
The Lord of the Rings
. You can join to read along with everyone or even just to enjoy the discussion and resources even if you aren't able to actually participate in the readthrough.
You can find more details at
or sign up here:
5. Classic LOTR Meme "They're Taking the Hobbits to Isengard" turns 18!?!
As subscriber Meersie pointed out this week on the Jokien with Tolkien Discord server, this past week marked 18 years since "They're Taking the Hobbits to Isengard" was originally uploaded to the internet!
Here's a link for you to enjoy this classic remix video, whether it's for the first time or the 10,000th:
Also, the final day of filming on The Hobbit: The Battle of the Five Armies, Peter Jackson made the following video with Orlando Bloom:
BONUS:
The Illustrated-by-the-author edition of The Hobbit is coming soon! It releases next month on September 19th and is available for preorder—on Amazon and Bookshop, among others—right now.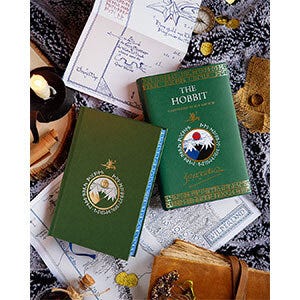 Question for the comments: what is something you've been enjoying this month?
---
*Sponsored*: Looking for amazing deals on bestselling books? Sign up for BookBub to never miss an ebooks deal! Subscribe for free here and never pay full price again.
What Paid Subscribers Got This Month
This month paid subscribers got the first paid essay with a subject that they voted on: a spotlight on a less-prominent character from The Silmarillion.
I also relaunched the "Book Notes" feature as There and Back Again, another monthly roundup post similar to Tolkien Treasures but exclusively for paid subscribers in coming months.
To join paid subscriber discussions, get the exclusive monthly essay and There and Back Again post, vote for future topics, join the Discord server, and also help keep this newsletter heading straight to everyone's inbox each week, consider becoming a paid subscriber to Jokien with Tolkien. Hit the button below for more info! And thanks!
Jokien with Tolkien is a Substack Bestseller!
But they were, all of them, deceived, for another checkmark was made.
A huge special thank you to all of you who have made Jokien with Tolkien a Substack bestseller!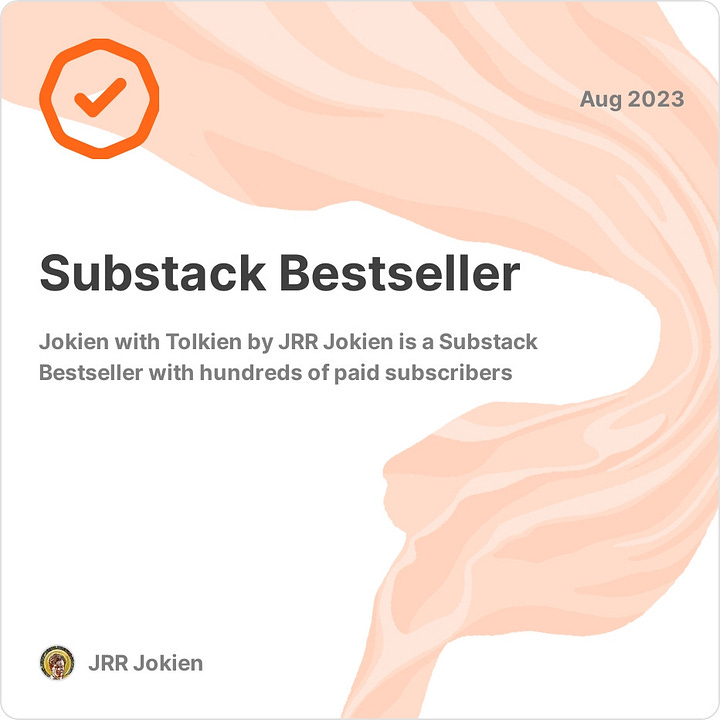 Unlike other social media sites where you pay to be verified (*cough* Twitter/X and Meta *cough*), Substack gives out checkmarks to authors/publications that the community identifies as bestsellers by their financial support. So thank you to everyone who has endorsed Jokien with Tolkien and pledged their sword, bow, or ax in support of this newsletter! You literally make this possible and I couldn't do this without you.
There we have it, my Tolkien Treasures for August. Farewell, friends. Go towards goodness!
Special shoutout and thank you to Ashley P, Lindsay D, Joe B, Andrew A and Taimie B for upgrading to a paid subscription this week! This is a reader-supported newsletter so if you enjoy these updates each week, please consider one or more of the following ways (free and paid) to support Jokien with Tolkien:
(Free) 'Like' this post here on substack or where I share it on social media so others can discover it

(Free) Forward this newsletter to someone who might be interested. Get a free month of a paid subscription for your first referral if they subscribe!

(Free) Share links to this newsletter or my Substack on social media. Also earns you rewards for referrals!

(Free) Subscribe to this newsletter to get in delivered straight to your inbox every week

($) Upgrade to a paid membership of Jokien with Tolkien (includes Discord access)

($) Become a Patreon supporter or leave me a tip for second breakfast

(Free) Keep reading this newsletter!
Appendices
If I get enough questions, I'm planning on a Reader Mailbag next week! Send in your questions (silly or serious) to JRRJokien@JRRJokien.com for me to include! Or leave them in the comments below
All typos are totally on purpose. Links may be affiliate, which is a free-to-you way to support this newsletter where I earn a small commission on items you purchase.
Interested in sponsoring this newsletter? Email me at JRRJokien@JRRJokien.com to reach 3,400+ subscribers.